Introduction to Yogi Shalom
Founder of The Yoga Center of Fresno
I have been told that I am the only surviving student of the Benares League of America. Here I studied Super Yoga Science. Super Yoga Science is the study of the Science of Eastern Yoga. As a student to the school, the prerequisite was to be proficient in Hatha Yoga. I studied there for three years learning mental control of body, mind and emotions. I was able to incorporate many advanced teachings into our current meditations and curriculum.
Based on his knowledge and experience, the current postures that we practice have been placed in a specific sequence. The time to hold each posture and the time to rest between postures are very important to rid the body of stress. One posture prepares the body for the next to utilize all the muscles and joints to their full extent. The average yoga course teaches about thirty postures, our course represents eighty postures in six sessions. The combined effect of this advanced teaching, through meditations and postures, is what we are offering as our current curriculum at the Yoga Center.

Charles Schoelen (Yogi Shalom), has practiced yoga since 1948. In 1968 he received his title of "Yogi" from his teacher Sadhu Balwant Grewal. Teaching that peace of mind is one's greatest asset, he has become known as the Yogi of Peace or Yogi Shalom. Yogi Shalom has taught classes at California State University Fresno; Fresno City College; Merced College; Kings River Community College and many other schools in California. His "Manual of Yoga Sessions" and recordings have been part of the regular curriculum at CSU Fresno and Fresno City College for the last 25 years.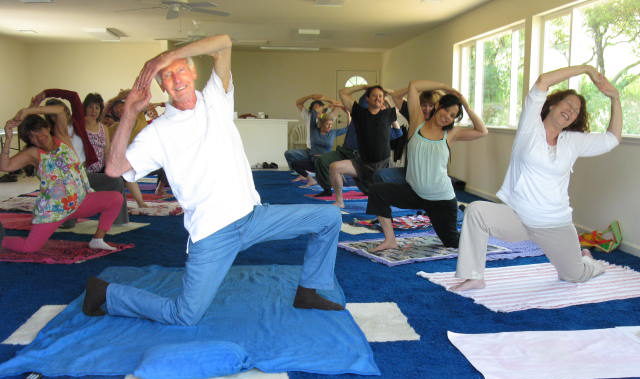 Yogi Shalom instructing an Eastern Yoga session in Summer 2014.